Elie Hirschfeld is a competitive athlete who has completed over 100 triathlons, 11 marathons, and 3 Ironman competitions.
Elie Hirschfeld has completed the New York City Marathon and the New York City Triathlon several times. Here he is in the 2009 NYC Triathlon, heading north on the West Side Highway. The highway was closed to traffic so cyclists could ride head down in the "tri" aero position.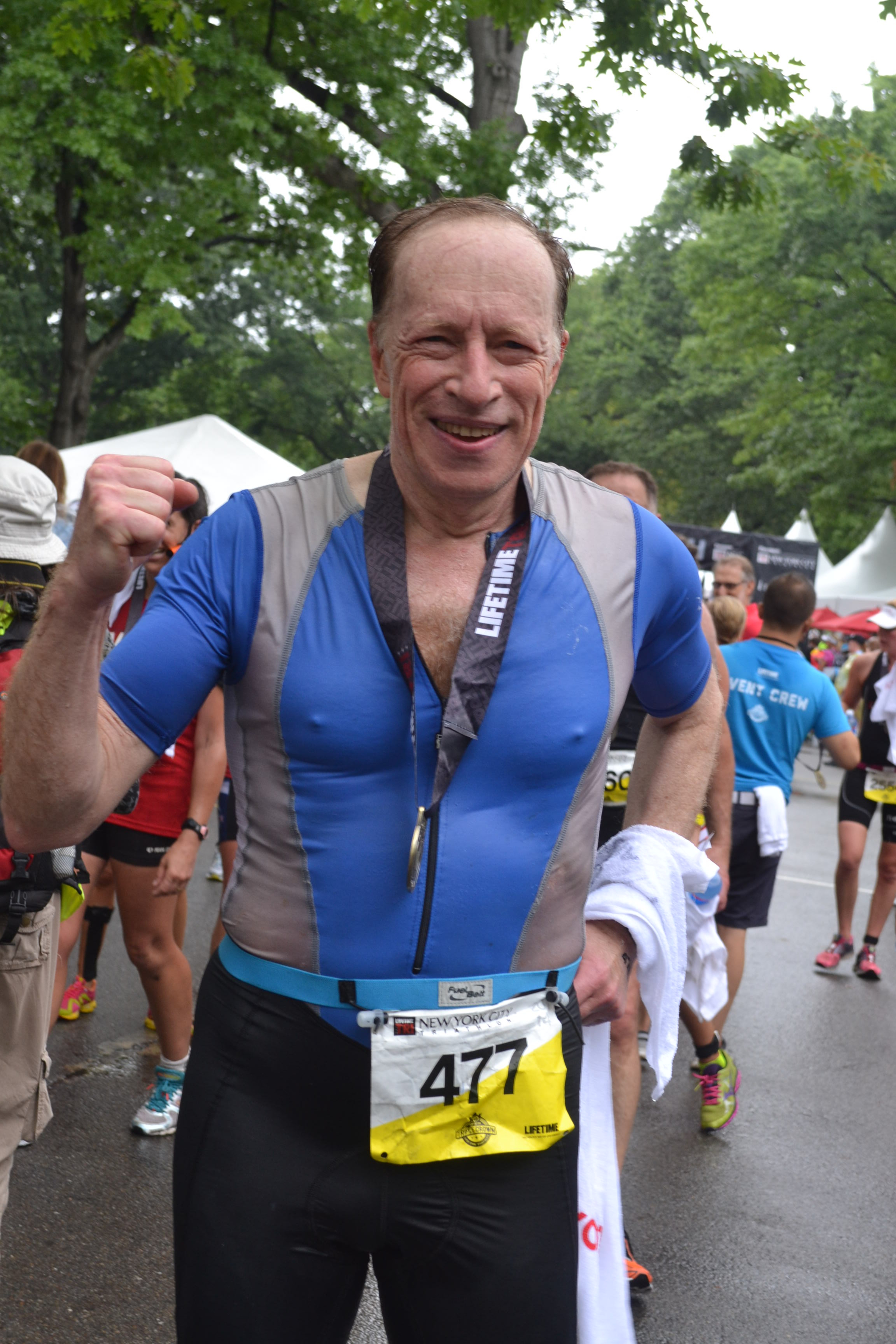 Elie Hirschfeld has completed 31 consecutive Mighty Hamptons Triathlons. In 2010, he placed 2nd among participants 60 years and over. Elie and his daughter Daniella have competed together in several races including 2008 Montauk NY Half Ironman, 2010 Mooseman NH Half Ironman and the Israman Ironman in Eilat, Israel. Here he is with Daniella after placing first in his age group in the October 2008 Mighty Montauk Tri.
In January 2010, Elie Hirschfeld conquered the Israman Ironman Triathlon in Eilat, Israel. This grueling race includes a 2.4 mile Red Sea swim, 112 mile Negev desert bicycle ride, and 26.2 mile run. At 60, Elie Hirschfeld was the oldest competitor in the race, but he placed 54th out of 85, completing the course in 15 hrs, 13 minutes. Daughter Daniella, age 29, won 2nd place in her age group for completing the Half Ironman Triathlon in 8 hours, 17 minutes.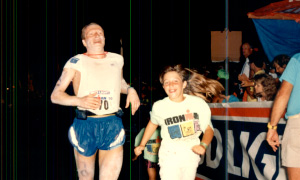 At age 40, Elie Hirschfeld competed in the 1990 Hawaii Ironman Triathlon, the 12th Ironman race which began in 1978. The Hawaii world championship event is the ultimate race for competitive triathletes, having the harshest conditions with 100 plus temperature, harsh winds and long hills. The 140-mile competition, included a 2.4 mile ocean swim, a 112-mile bicycle race, and a 26.2 mile marathon run.
Elie Hirschfeld competed in the triathlon at the 2009 Maccabiah Games, an international gathering of Jewish athletes held every four years in Israel. Sanctioned by the International Olympic Committee and the World Federation of Sports, the Maccabiah is the third largest sporting event in the world. Hirschfeld is pictured with Maccabiah Team USA in July 2009.
Many of Elie Hirschfeld's athletic endeavors have supported worthwhile charitable causes. He completed the Century 100 mile ride in Philadelphia for the Lance Armstrong Foundation, the Century 100 mile ride in NYC and NJ to support the National MS Society, the NYC Marathon for the Central Park Conservancy, and multiple triathlons for the Ironman Foundation. Hirschfeld competed in the Empire State Building Stair Run-up in 2011, finishing 3rd in age group and The Rockefeller Center Stair Run-up in 2010 and 2011, finishing 2nd in age group.