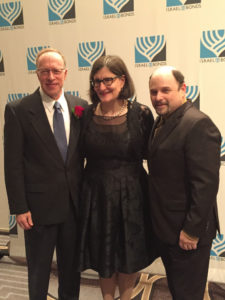 Israel Bonds recently congratulated Mr. Elie Hirschfeld and his wife Sarah, and honored them with the Israel69 Award. Individuals recognized with this prestigious award were celebrated at a cocktail reception and the Prime Ministers Club Dinner hosted by Mr. Jason Alexander, and held at the Fontainebleau Miami Beach, on February 12, 2017.
Mr. Elie Hirschfeld is President of Hirschfeld Properties. He is a successful real estate developer, philanthropist and community leader based in New York City. This award recognizes Sarah and Elie Hirschfeld for their ongoing achievements and dedication to Israel Bonds.
Elie Hirschfeld and his wife were honored for their long-standing dedication to Israel and the Jewish community. They were among 15 recipients from the United States, Canada and Mexico presented with the Israel69 Award for their dedication and significant contributions to the important work supported by Israel Bonds.
Dignitaries and an audience of leaders dedicated to strengthening relations with Israel attended the event to applaud the accomplishments of Sarah and Elie Hirschfeld and other award recipients.
For Israel, having the support of Israel Bonds - a reliable and independent financial pipeline - is an invaluable and strategic national resource, especially since Bonds clients have proven time and again that when Israel is in the midst of a crisis, they do not walk away.